Gavin Jerome has been a professional entertainer for the past 20 years.
He has worked with the likes of:
Jerry Seinfeld

Paul Reiser

Dennis Miller

Steve Harvey

Pat Paulson
For over a decade, Gavin has been providing his humor workshops to companies and associations nationwide. His client list includes:
3M

IBM

Pepsi

Target

The Principal Financial Group

Mayo Health System

U. S. Probation Office
For 5 seasons, Gavin was the track announcer for the hit TV show PINKS on Speed.

His best selling book, "The Comedy College Handbook" is now in it's 8th printing.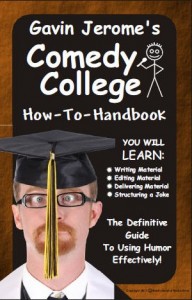 Top
He has never had a day job, and he has never sold Amway…
Download Gavin Jerome's Introduction HERE.
Install this web app on your Android: Tap menu, more options, and then Add Shortcut To Homescreen.
×